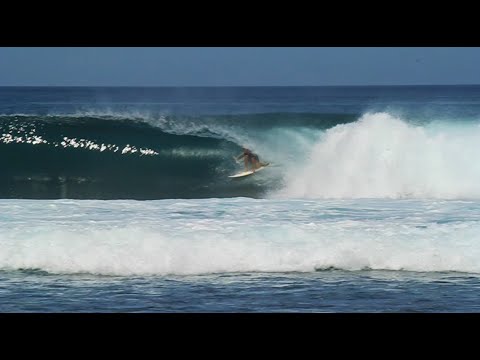 Surfing in Lakey Peak
One of the Most Consistent
Lakey Peak is an area were there are countless waves. Left and right reef breaks of all kinds from soft to heavy. You couldn't ask for much more. The surrounding areas are nothing short of magnificent with mountains, rivers and white sand beaches. The locals are friendly and helpful.
Below are some surfing spots. You will need to explore and find other secret Spots by yourself.
Lakey Peak
Lakey Peak is a perfect A frame peak with the left being longer than the right. The best tide for the left is medium to low tide, no lower than a 0.5 on a 4-6 ft swell. It does break on the bigger swells but has to be a higher tide. The right hander breaks on medium to high tide offering an intense right hand barrel. Breaks through the lower tides only on small swells. This wave is one of the most consistent waves in Indonesia and offers surf for the beginner to the most experienced. Breaks through dry and rainy seasons.
Lakey Pipe
Lakey Pipe Is across the channel on the left side of the peak, a popular wave amongst the body boarders and surfers. Best at 3-4 ft on a medium to high tide. It can be surfed at low tide on a body board if you have the balls.
Cobblestones
Cobblestones is a super fun left and right breaks. Works well on small swells and only breaks at higher tides. The left hander the higher the tide the better the wave 2.2-2.6. the right hander only works from a 1.8 tide and up, a super fun mellow wave.
Nungas
Nungas big left hander 5 minutes walk down the beach from Lakey Peak, sections start to connect on the bigger swells offering rides of 200 meters or more. Nungas hold any size swell the ocean throws at it and breaks on all tide but is subject to strong currents so try to surf on slack tides.
Periscopes
Periscopes is a right hander 15 minutes walk down the beach from Lakey Peak, it only breaks best from 1.7 tide and up. Can offer three barrel sections on one wave. Best on a 3-6 foot swell, breaks on the bigger swells but closes out through the channel.
Marchi Point
Marchi Point a fun right hand reef/point setup. Best on south swell direction and works on variable tides depending on conditions. Can barrel but is usually long workable walls. Its 30 mins by boat directly across the bay.